Automated Sample Processing System-GeneMix 48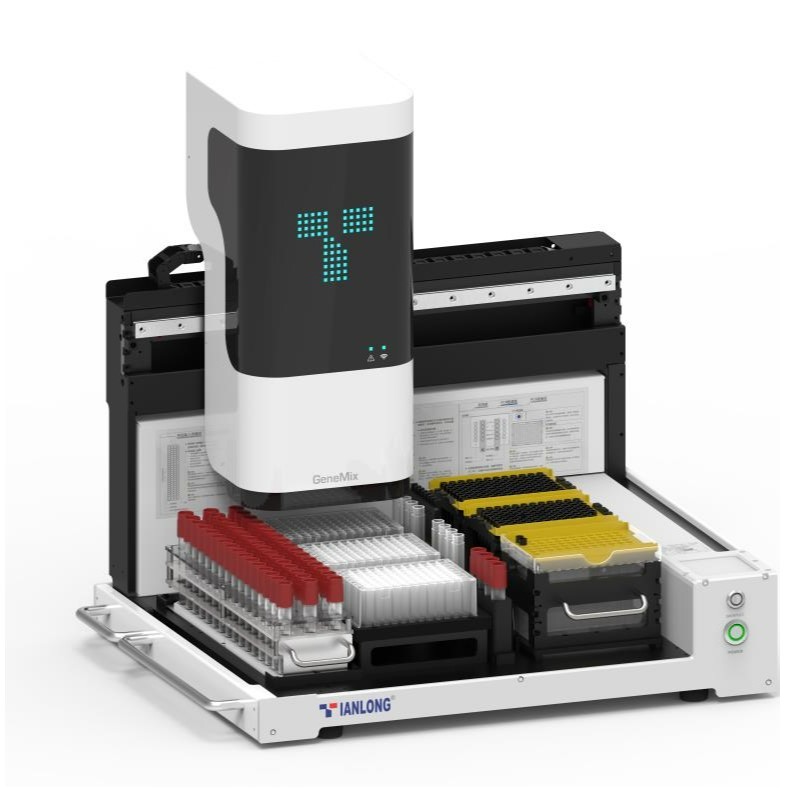 Automated Sample Processing System-GeneMix 48
GeneMix 48 Automated Sample Processing System by Tianlong Technology can complete lid opening/closing, dispensing, and proteinase K / internal control addition for 48 sample tubes in one run. Full automation frees professionals from repetitive and mechanical operations with high efficiency and safety.
SECURITY MEASURES

● Droplet entrapment technology
● Airtight and drip-proof design
●Pressure sensors to detect the liquid surface
● All functions within the biosafety cabinet
● Pad remote control
PRODUCT ADVANTAGES
FULL AUTOMATION
Automated Id opening/closing, dispensing, and proteinase K/ internal control addition, saving time and efforts.
SAFE OPERATION
With droplet entrapment, airtight and drip-proof, pressure sensing detection design, all functions are designed to be done within the biosafety cabinet, with remote control from Pad to prevent cross-contamination.
HIGH EFFICIENCY
48 samples completed within 20 min, and dispensing-only mode of just 10min.
EASY-TO-OPERATE
Stand-alone operation, or Pad remote control.
INTELLIGENT TECHNOLOGY
Real-time monitoring of materials and equipment status, and alarm if abnormal.
USER-FRIENDLY
Voice reminders during the process; pre-set automatic mixing.
APPLICATION FIELDS
Sample processing for clinical diagnosis, epidemic surveillance, food safety, forensic identification, scientific research, etc., especially for samples of SARS-CoV-2 or other virulent infectious diseases.
PRODUCT PARAMETERS
Model

GeneMix 48

Sample Throughput

1-48

Sample type

Plasma, serum, whole blood, swab solution, and urine, etc.

Product Functions

1. Nucleic acid extraction sample dispensing;

2. Nucleic acid extraction reagent loading;

3. Automatic lid opening/closing of standard sample collection tubes.

Operation Mode

Stand-alone operation, Pad remote control

Operating System

Android system, user interface in Chinese/English

Pipetting Channels

2

Processing Volume

10-280μL in one run, multiple repetition available.

Contamination Control

1. External droplet entrapment;

2.Airtight and drip-proof design;

3. All functions within the biosafety cabinet.

Materiol Control

Automatic recognition of deep-well plates tips and waste boxes.

Liquid Level Detection

Pressure sensors to detect the liquid surface.

Human-vehicle Interaction

1. Rea-time display of instrument status on the LED screen of the host and the Pad user interface

2. Voice reminders during the operations.

Size

570mm (L)×455mm (W) ×530mm (H)

Weight

20kg
1.1 Sample throughout difference: Gentier96 can process maximum 96 samples per run, Gentier48 can process maximum 48 samples per run; 1.2 Fluorescence channel difference: Gentier96 E/R has 6/4 fluorescence channels separately, Gentier48 E/R has 4/2 fluorescence channels; 1.3 Light source location difference : The light source of Gentier96 is on the top, which requir
...more