Rotary Nucleic Acid Extractor-GeneRotex96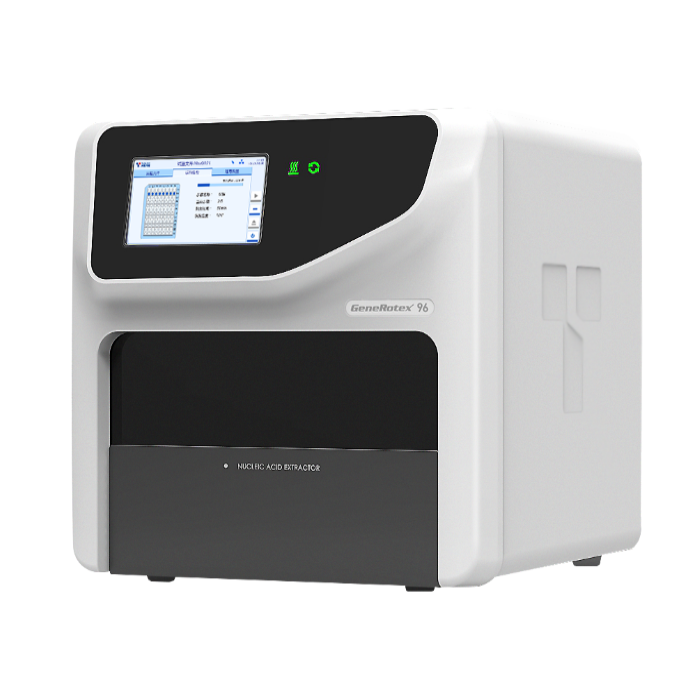 Rotary Nucleic Acid Extractor-GeneRotex96
Tianlong GeneRotex96 Rotary Nucleic Acid Extraction System,designed according to the principles of magnetic bead method and rotary nucleic acid extraction technology, GeneRotex 96 can well overcome the shortcomings of traditional nucleic acid extraction methods and achieve the rapid and efficient preparation of nucleic acids from a large number of samples.

With the appropriate nucleic acid extraction reagents, this instrument can process serum, plasma, whole blood, swabs, amniotic fluid, feces, tissue and tissue lavage, paraffin sections, bacteria, fungi and other sample types.

Rotary Nucleic Acid Extraction System is widely used in the fields of disease prevention and control, animal quarantine, clinical diagnosis, entry-exit inspection and quarantine, food and drug administration, forensic medicine, teaching and scientific research.
Rotary Nucleic Acid Extraction System
Product Features
The use of rotary nucleic acid extraction, combined with air filtration and UV light disinfection measures, can greatly reduce the risk of contamination,

and provide a more efficient and silent extraction process.

High throughput, with automated nucleic acid extraction of 96 samples completed in about 20min.

Various operation modes: touch-screen operation, or remote operation in an app via a scanner.

Motor-driven automatic opening and closing of the experiment cabinet.
Product Parameters

Product Model
GeneRotex 96
Authoritative Certifications:
NMPA, CE, FDA, KFDA etc.
Sample Throughput
1~96

Processing Volume
30~1000 μL
Recommended Sample Volume
200 μL
Suitable Consumables
96-deep-well plate, customized 6-tube strips
Rotating Speed
≤3000 rpm
Temperature Control Range
Pyrolysis heating: room temperature ~ 120°C
Elution heating: room temperature ~ 120°C
Mixing Method
Rotational mixing
Operating Language
2 Built-in operating languages: Chinese and English; Easy to switch
Operation Mode
7-inch full-color LCD touch screen, or app control via a scanner
Program Storage
Up to 10000 programs with the built-in modules
Program Management
Programs can be created, edited, applied and deleted with high flexibility
Automated Hatch
Motor-driven automatic opening and closing of the experiment cabinet.
QR Code Scanning
With the connection to an external scanner, applications can be automatically recognized and controlled with one click.
Magnetic Bead Residue
<1%
Power Failure Protection
In the event of an unexpected power failure, there are options available whether or not to continue the experiment.
Pollution Control
Negative pressure HEPA exhaust filter module;
Built-in UV disinfection module
Size and Weight
490 mm*510 mm *480 mm (W*D*H), 45 kg
Power Supply
AC 220 V,

50 Hz
1.1 Sample throughout difference: Gentier96 can process maximum 96 samples per run, Gentier48 can process maximum 48 samples per run; 1.2 Fluorescence channel difference: Gentier96 E/R has 6/4 fluorescence channels separately, Gentier48 E/R has 4/2 fluorescence channels; 1.3 Light source location difference : The light source of Gentier96 is on the top, which requir
...more