Nucleic Acid Extractor - Libex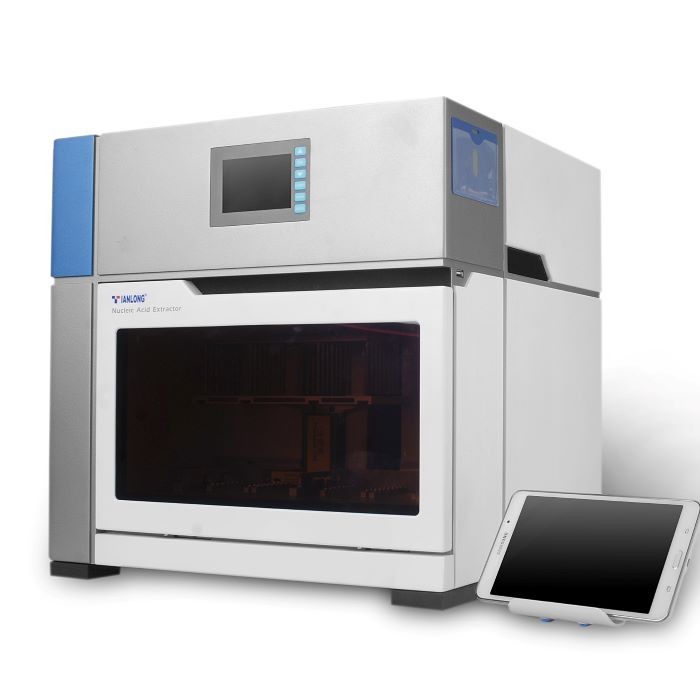 Nucleic Acid Extractor - Libex
Based on the automated extraction method of magnetic bead adsorption separation, Tianlong Libex Nucleic Acid Extractor can well overcome the shortcomings of conventional nucleic acid extraction methods and achieve rapid and efficient sample preparation.

With the appropriate nucleic acid extraction reagents, it can process serum, plasma, whole blood, swabs, amniotic fluid, feces, tissue and tissue lavage, paraffin sections, bacteria, fungi and other sample types.

It is widely used in the fields of disease prevention and control, animal quarantine, clinical diagnosis, entry-exit inspection and quarantine, food and drug administration, forensic medicine, teaching and scientific researches.
Nucleic Acid Extractor
Product Features



Remote control via Android system smart phones or tablets by connecting to the built-in wifi of

Libex;




Different package size of Pre-filled extraction kits are available for greater flexibility in sample throughput



Built-in UV disinfection module;

Ultra-silent operation.
Product Parameters
Product Model
Libex
Authoritative Certifications:
NMPA, CE, FDA,KFDA, etc.
Sample Throughput
1-32
Processing Volume
30—1000 μL
Magnetic Bead Residue
<1%
Applicable Consumables
96-deep-well plates, 6-tube strips
Heating Temperature
Pyrolysis heating: room temperature ~ 120°C

Elution heating: room temperature ~ 120°C
Operating Noise

<65 dB
Oscillation Mixing
Adjustable: multi-mode, multi-level mixing.
Reagent Type
Magnetic beads-based extraction kits
Operation Mode
A. Remote control via smart phone /tablet (Android system);
B. Screen/button operation
Experimental Storage
Up to 15 sets of programs can be stored in the instrument.
Android applications can store > 500 programs.
Program Management
Programs can be created, edited, applied and deleted with high flexibility.
Pollution Control
Built-in UV disinfection module
Power Failure Protection
In the event of an unexpected power failure, there are options available whether or not to continue the experiment.
Network Communication
Mobile/tablet wifi remote control;
Ethernet remote control applicable.
Size and Weight
440 mm*435 mm*445 mm

(W*D*H), 31.5 Kg
1.1 Sample throughout difference: Gentier96 can process maximum 96 samples per run, Gentier48 can process maximum 48 samples per run; 1.2 Fluorescence channel difference: Gentier96 E/R has 6/4 fluorescence channels separately, Gentier48 E/R has 4/2 fluorescence channels; 1.3 Light source location difference : The light source of Gentier96 is on the top, which requir
...more