PCR Thermal Cyler - Genesy96T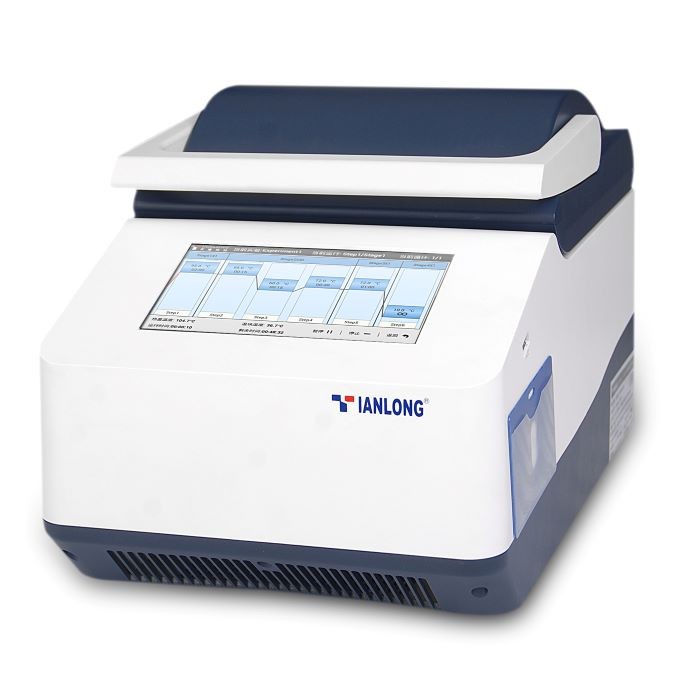 PCR Thermal Cyler - Genesy96T
Genesy is a new generation of gene amplification thermal cycler independently developed by Tianlong, with innovative design, intelligent and friendly user operating system, fast and accurate temperature control and a variety of practical functions for your applications.

Four step model options are provided by the system software: standard, gradient, long,touchdown. It is widely used in medical institutions at all levels, universities and research institutes, CDC, Entry-Exit Inspection and Quarantine Bureau, Public Security Criminal Evidence Identification Center, veterinary centers, food and dairy product factories, and other industries.
PCR Thermal Cyler -Genesy96T
Product Features
7-inch TFT color touch screen, easy to operate;



Rapid heating up and cooling down, accurate temperature control, for reliable results;




12 temperature gradients to meet diverse needs;

Power failure protection, for your safety and work efficiency;

Flexible options: Tube Mode and Block Mode.
Product Parameters
Product Model
Genesy
Authoritative Certifications:
NMPA, CE, FDA, KFDA etc.
Suitable Consumables
0.2mL single tubes, 0.2mL 8-tube strips, 0.2mL skirted / semi-skirted / skirtless 96-well plates.
Reaction Systems
0~100μL
Module Temperature Range
4.0

℃

~ 99.9

℃

Temperature Control Mode
Tube Mode, Block Mode
Gradient Module
Up to 12 gradients in one run
Gradient Temperature Span
1 ~ 40

℃

Gradient Temperature Range
35 ~ 100

℃

Temperature Range of Heater Lid
40 ~ 110

℃

Temperature Uniformity
±0.2

℃

Temperature Accuracy
±0.1

℃

Heating & Cooling Rates
Up to 5.5

℃

/s

Steps
Unlimited
Cycles
Up to 99
Increment / Decrement Time
1s ~ 10min
Increment / Decrement Temp.
0.1~5

℃

, Touchdown PCR assay available

Program Storage
> 1000 sets
UI
7-inch TFT true-color LCD touchscreen, 800×480 resolution
Operating Noise
<

55dB

Structural Design
The instrument is designed with air ducts in the front and back, for multiple units to be placed closely in parallel to save laboratory space.
Software
Beeping alert function;
Automatic calculation and display of gradient temperatures for each column;
Graphical interface showing PCR running process in real time;
Unlimited number of programs with USB storage;
Power failure protection: automatic recovery of the experiments when the power is on again after cutting off;
Pre-stored standard experiment templates, without tedious programming;
One-click start-up of the experimental program, quick and easy;
Self-pressurized heater lid with no need to adjust its height, compatible with a variety of consumables;
Individual folders available, for quick access to the programs.
Size and Weight
260mm*400mm*260mm(W*D*H),11 kg
Power Supply
AC 100~240 V, 50~60 Hz, 600 VA
1.1 Sample throughout difference: Gentier96 can process maximum 96 samples per run, Gentier48 can process maximum 48 samples per run; 1.2 Fluorescence channel difference: Gentier96 E/R has 6/4 fluorescence channels separately, Gentier48 E/R has 4/2 fluorescence channels; 1.3 Light source location difference : The light source of Gentier96 is on the top, which requir
...more