Portable Hygiene Monitor - Biolum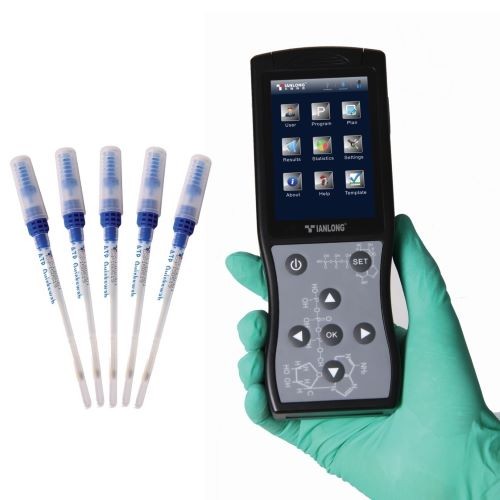 Portable Hygiene Monitor - Biolum
Adenosine Triphosphate (ATP) is commonly found in plant and animal cells, microorganisms and food residues. Under aerobic conditions, the Firefly luciferase (Fluc) catalyzes the oxidation reaction between luciferin and ATP, and form oxyluciferin, which fluoresces.

Developed based on such principles, Biolum Portable ATP Hygiene Monitoring System can measure the degree of contamination of the target under test by detecting the fluorescent signals, so as to determine whether or not the target is hygienic.

It is widely used in various industries such as food processing industry, catering industry, healthcare industry, as well as environmental protection and other law enforcement departments.
Portable ATP Hygiene Monitoring System
Product Features
Open reagent options: the matching ATP Quickswab swabs by Tianlong are recommended to ensure the accuracy of test results.

Rapid detection: 10s per sample.

Automated operation: 3.5-inch color screen, minimalist buttons, friendly and easy-to-use human-machine interface.

Quantified results: visual display of the data, easy to interpret, with a detection limit of 1x10-16mol ATP.

Software intelligence: after the detection is completed, the data can be uploaded to Biolum's unique analysis software, which can track and archive the detection results, and analyze the trend of detection sites.

Detection protection: with a built-in inclination sensor, if the instrument is tilted out of range, the detection will be stopped to ensure the accuracy of the detection.

Minimized size: portable design, the overall weight of the whole product is less than 300g for one-handed operation.
Product Parameters

Product Model
Biolum
Authoritative Certifications:
NMPA, CE, etc.
Size (W*D*H)
7 cm*3.5 cm*18.9 cm

Weight
Up to 300g (including battery), single-handed operation.
Display
Large color screen, visual display of data
Detection accuracy
1×10-16 mol ATP
Detection Range
0-999999 RLUs
Lower Limit of Detection
1.0 CFU/mL
Power-on Self Test
15s or 60s
Testing time
10s
Detection Protection
With a built-in inclination sensor, if the instrument is tilted out of range, the detection will be stopped to ensure the accuracy of the detection.
Test Chamber
Movable, washable and replaceable
Accuracy
± 5% or ±5 RLUs.
User Settings
256 user IDs, 256 detection plans, and 2000 detection program thresholds
Analytical Statement of Results
The result levels can be displayed based on RLU values calculated by the precomputed formula.
Result Output
Bluetooth thermal printer can be configured to print detection results in real time.
Storage
10000 data records.
Data Queries
Quick access to statistical results:
RLU value, date, time, etc.; in combination with the specific software, result data can be queried on a computer by time, place, etc.;
histograms, pie charts, line graphs and other intuitive diagrams are available, for easy and on-demand access to analysis and monitoring.
Data Transfer
USB port for real-time transmission of results to the PC during the detection.
Built-in Bluetooth module for wireless transmission of detection results to a PC via a Bluetooth adapter
Power Supply
Rechargeable lithium-ion battery, charged via MiniUSB port;
Optional solar charger and car power charger are also available.
Operating Time
Continuous operating >10h; standby time: >500h
Compatible Kits
All-in-one swabs with stabilizing liquid media, to meet the needs of rapid on-site detection.
1.1 Sample throughout difference: Gentier96 can process maximum 96 samples per run, Gentier48 can process maximum 48 samples per run; 1.2 Fluorescence channel difference: Gentier96 E/R has 6/4 fluorescence channels separately, Gentier48 E/R has 4/2 fluorescence channels; 1.3 Light source location difference : The light source of Gentier96 is on the top, which requir
...more