P732H - Novel Coronavirus(2019-nCoV) Nucleic Acid Detection Kit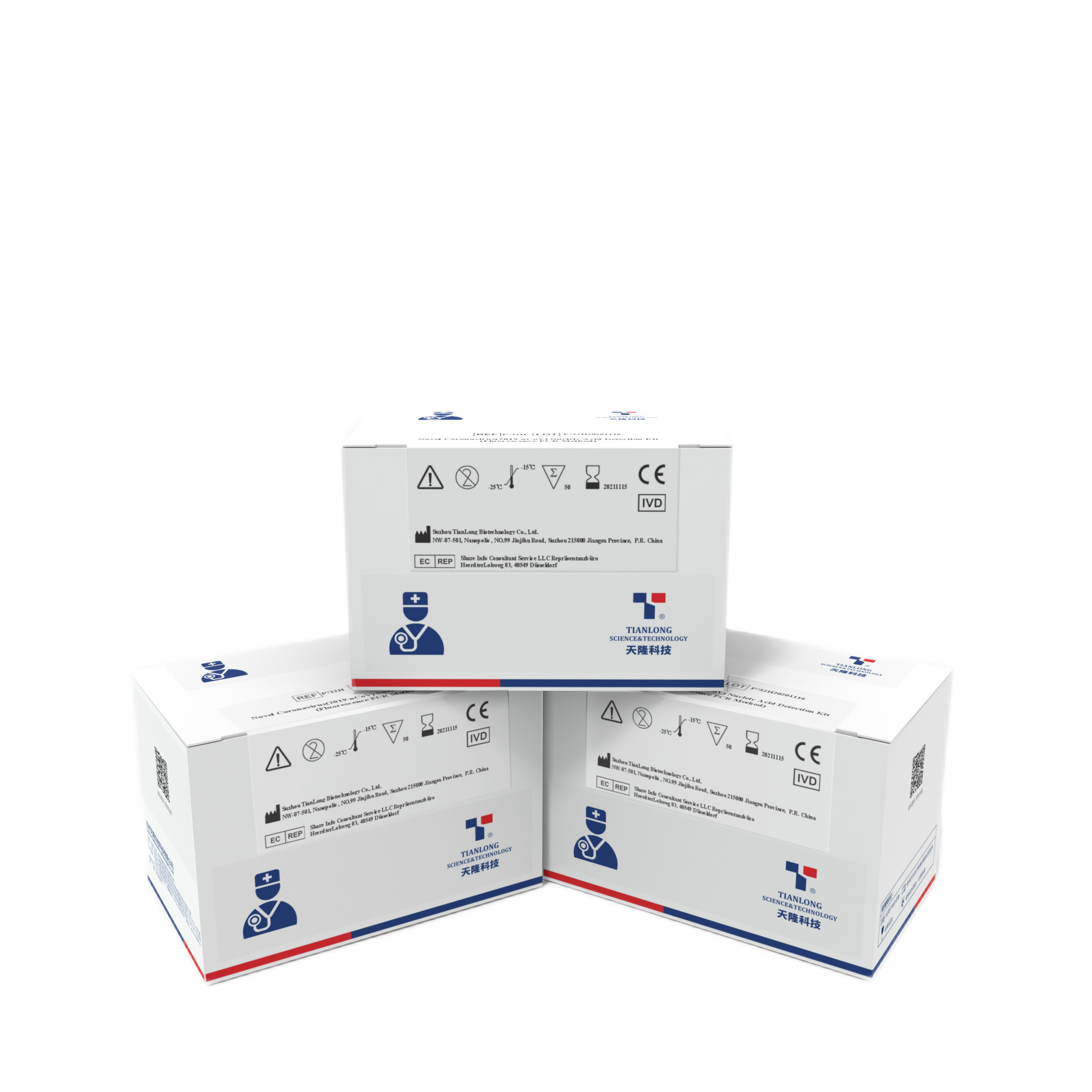 P732H - Novel Coronavirus(2019-nCoV) Nucleic Acid Detection Kit
Tianlong Real Time PCR Detection Kit is developed by our RD independently, after long period clinical verification, it has advantages such as high sensitivity , enhanced specificity, quick response and easy operation, high sample coverage and low undetected rate, it plays an important role in viral diagnostic.

Besides, Tianlong real time PCR detection kit, used cooperatively with Tianlong nucleic acid extractor and PCR detection machine , made great contribution to the prevention and control of various major epidemics such as avian flu, Ebola, MERS, African swine fever and neonatal pneumonia.
Product Description :

Intended use:
The TianLong's 2019-nCoV ORF1ab/N gene qPCR kit is intended to be used for the qualitative detection of 2019-nCoV ORF1ab/N nucleic acid by fluorescence Polymerase Chain Reaction (PCR) method. The test is targeting ORF1ab region and N protein gene of the viral genome.
Product Order Info.:

| | |
| --- | --- |
| Product Name | Novel Coronavirus (2019-nCoV) Nucleic Acid Detection Kit (Fluorescence PCR Method) |
| Cat.No | P732H |
| Specification | 50T /Kit |
| Specimen | human nasopharyngeal swabs, sputum and lower respiratory tract specimens |
| Target pathogene | 2019-nCoV ORF1ab & N gene |
| Storage & Validity | All reagents should be stored at -20℃±5 ℃. The validity period of the reagents is 12 months. |
| Applicable Equipment | ABI7500 real time PCR systems, TL988-IV real time PCR system, Gentier 96E real time PCR system, Gentier 96R real time PCR system and Gentier 48E real time PCR system. |
1.1 Sample throughout difference: Gentier96 can process maximum 96 samples per run, Gentier48 can process maximum 48 samples per run; 1.2 Fluorescence channel difference: Gentier96 E/R has 6/4 fluorescence channels separately, Gentier48 E/R has 4/2 fluorescence channels; 1.3 Light source location difference : The light source of Gentier96 is on the top, which requir
...more